Click on the answer you think is right.
Like always, a right answer gets you something like
this
a wrong one gets you
this
Click on the picture for the backstory.
Lets begin shall we?
This is a picture of a nekk'n brace that uses recycled materials to form an exciting new design in fashion. The writeup also uses what other pitch as a tagline?
A)
Keep your jugular protected from the elements.
B)
Dont hate the nekk'n brace, hate the game. Oh shucks....dont hate anyone!
C)
Like a fanny pack for your face!
D)
Rest assured that none of our recycled materials were from the crotch or seat area of used pants.
The following is an ad for:
A)
Primal mountain bike jerseys for ladies
B)
Ladies pro mountain bike team "The luna chicks"
C)
Camelback hydration systems
D)
A Polish pornography site
This disturbing picture accompanies a pay site that includes:
A)
An equally disturbing story titled: "Velomobile and Amazon muscle women"
B)
Other "blue ribbon" pieces of art collected from Womens prisons all over the nation
C)
Bodybuilding tips for teens
D)
A modern rework of Flash Gordon with alot more chicks and bikes
This US patent for "Be the bike" includes all but one of these methods for stopping "the bike"?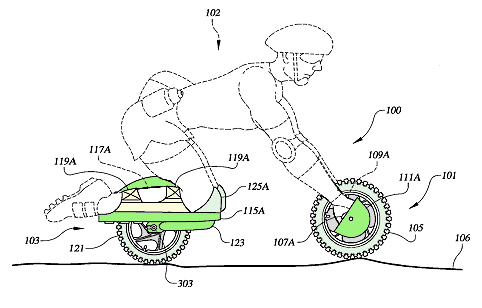 A)
Fanny friction
B)
Thigh master sqeeze
C)
Body armor and protection
D)
Hidden brake lever in front "wrist gauntlets"
How did you do?
Remember the STreet king grading system?
4 correct answers = Street King level knowledge (please apply now for membership)
3 correct answers= 75% right, basically the Ultegra of test scores
2 correct answers= You need to dump the dial up and get on the interwebs
1 or no correct answers= you should be ashamed of yourself.